The National Election this week will be quite the family affair for the Cambodian People's Party with more than 20 influential candidates contesting alongside a relative.
The CPP is one of 18 parties that will be on the ballot this Sunday, and has 24 family relations contesting a seat in the National Assembly. A lot of these family relations are sitting members of parliament, but with an expected transition of power, it further entrenches the political elite's hold on governance.
Prime Minister Hun Sen will again stand from his constituency of Kandal, with his heir apparent Hun Manet debuting on the Phnom Penh ballot at the No. 1 position. Hun Many, another Hun Sen son, and Nim Chandara, a Hun Sen brother-in-law, will continue to contest from their incumbent seats in Kampong Speu and Kampot, respectively. Chandara is married to Hun Sen's sister Hun Sinath.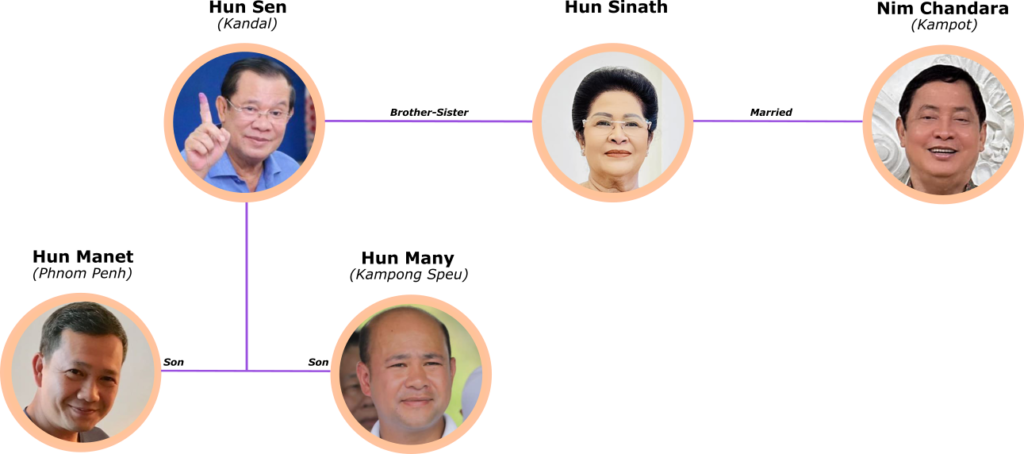 Deputy Prime Minister and Interior Minister Sar Kheng will again contest from Battambang, where he is the CPP provincial head, and his son Sar Sokha will look to hold onto his parliamentary seat from Prey Veng.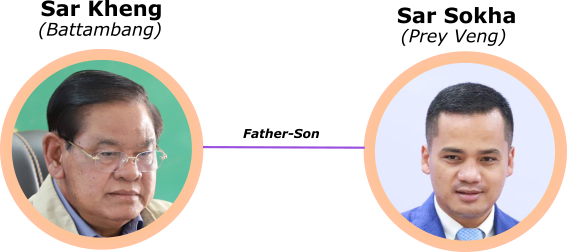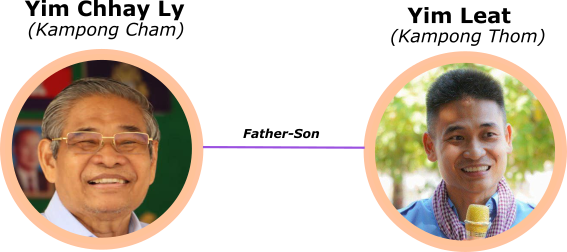 Another deputy prime minister, Yim Chhay Ly, will contest in Kampong Cham while Yim Chhay Ly's son, Yim Leat, is on the Kampong Thom ballot. Yim Chhay Ly's daughter Yim Chhay Lin is married to Hun Sen's son, Hun Many.
Ke Kim Yan, another of Hun Sen's deputy prime ministers, is a candidate for Banteay Meanchey, and is joined by his son Ke Suon Sopheap, who is on the reserve list for the northwestern province. Ke Kim Yan's daughter, Ke Suonsophy, is married to Sar Sokha, and the two families were seen campaigning together last weekend.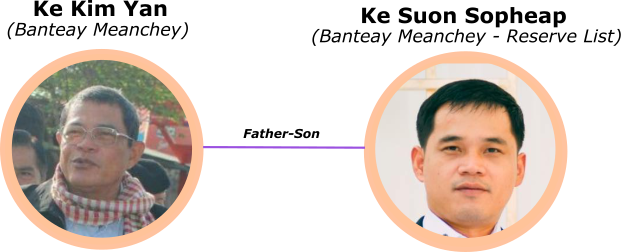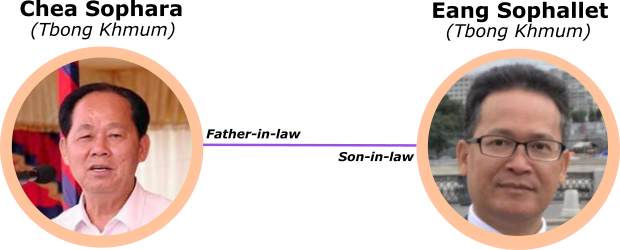 Land Minister Chea Sophara will contest alongside his son-in-law and Hun Sen assistant Eang Sophallet in Tbong Khmum, whereas Foreign Minister Prak Sokhonn might have his wife Kheng Samvada to accompany him to the National Assembly if they both win, in Kandal and Kampong Speu, respectively.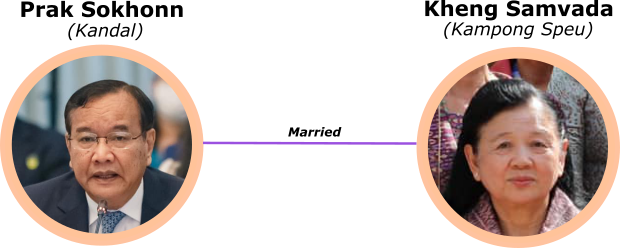 Rounding off the deputy prime ministers, Tea Banh will be accompanied by his son, Tea Seiha, on the Siem Reap ballot. Seiha is currently the Siem Reap governor and will have to relinquish that position if he chooses to enter the National Assembly.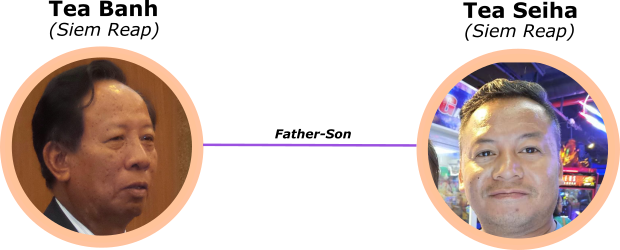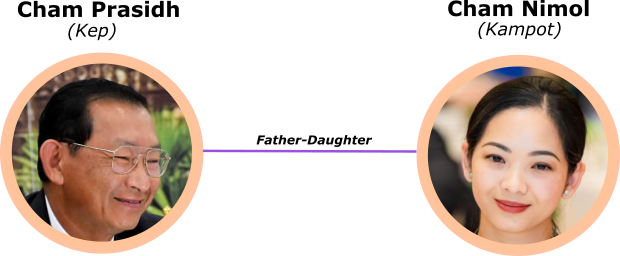 Longtime Hun Sen ally Cham Prasidh, the minister of industry, and his daughter Cham Nimol, a secretary of state at the Commerce Ministry, will contest from the neighboring provinces of Kep and Kampot. Chhay Rithisen is the son of Planning Minister Chhay Than and they can be found on the Tbong Khmum and Kampong Speu ballots, respectively.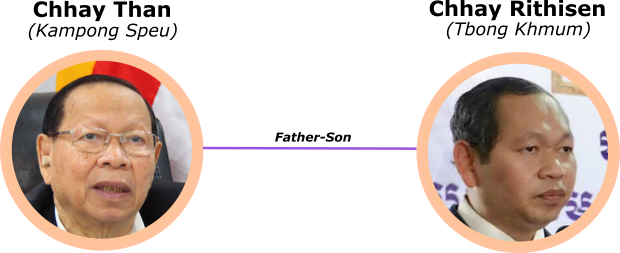 Rural Development Minister Ouk Rabun, who tops the Kampong Chhnang candidate list, is joined by his son Ouk Panha, who only makes it to the reserve list.

And last but not least, National Assembly president Heng Samrin will again contest with his son-in-law and Social Affairs Minister Vong Soth​ in Tbong Khmum province.
CPP Candidates List
Name
Province
Rank
Ke Kim Yan

M/68

Banteay Meanchey
1
Kousoum Saroeuth

M/67

Banteay Meanchey
2
Y Long

M/69

Banteay Meanchey
3
Nuom Sophoan

F/68

Banteay Meanchey
4
Serei Kosal

M/69

Banteay Meanchey
5
Kheng Sum

M/69

Banteay Meanchey
6
Sar Kheng

M/72

Battambang
1
Ngin Khorn

M/72

Battambang
2
Lork Huor

M/60

Battambang
3
Ang Vong Vattana

M/74

Battambang
4
Chhieng Von

M/72

Battambang
5
Keut Rith

M/44

Battambang
6
Sak Setha

M/67

Battambang
7
Chan Sophal

M/65

Battambang
8
Yim Chhay Ly

M/73

Kampong Cham
1
Khieu Kanharith

M/71

Kampong Cham
2
Pan Sorasqak

M/67

Kampong Cham
3
Veng Sakhon

M/62

Kampong Cham
4
Hangchuon Naron

M/61

Kampong Cham
5
Lou Kimchhun

M/67

Kampong Cham
6
Lun Limthai

M/65

Kampong Cham
7
Nguon Socheat

M/51

Kampong Cham
8
Ma Chhoeun

M/69

Kampong Cham
9
Nao Thuok

M/73

Kampong Cham
10
Kong Sam Ol

M/86

Kampong Chhnang
1
Ouk Rabun

M/72

Kampong Chhnang
2
Ker Chanmony

F/64

Kampong Chhnang
3
Ly Narun

M/62

Kampong Chhnang
4
Chhay Than

M/75

Kampong Speu
1
Hun Many

M/40

Kampong Speu
2
Satya Vuth

M/69

Kampong Speu
3
Seng Nhak

M/43

Kampong Speu
4
Kheng Samvada

F/66

Kampong Speu
5
Sok Born

M/71

Kampong Speu
6
Chea Chanto

M/71

Kampong Thom
1
Thong Khon

M/71

Kampong Thom
2
Suos Yara

M/49

Kampong Thom
3
Yim Leat

M/36

Kampong Thom
4
Khoeng Noupheap

M/44

Kampong Thom
5
Norng Veasna

M/41

Kampong Thom
6
Pen Simon

M/68

Kampot
1
Un Sokunthea

F/68

Kampot
2
Som Chen

M/74

Kampot
3
Nim Chantara

M/68

Kampot
4
Cham Nimul

F/43

Kampot
5
Math Seth

M/42

Kampot
6
Hun Sen

M/70

Kandal
1
Khuon Sodary

F/70

Kandal
2
Aun Pornmoniroth

M/57

Kandal
3
Prak Sokhonn

M/69

Kandal
4
Mao Phirun

M/63

Kandal
5
Sun Chanthol

M/67

Kandal
6
Lim Keanhor

M/73

Kandal
7
Sok Chenda Sophea

M/67

Kandal
8
Rongsey Visoth

M/58

Kandal
9
Ty Sokun

M/56

Kandal
10
Sos Mousine

M/47

Kandal
11
Dom Yuk Hean

M/70

Koh Kong
1
Prum Sokha

M/68

Kratie
1
Pech Bunthin

M/78

Kratie
2
Sar Chamrong

M/65

Kratie
3
Chan Yoeun

M/72

Mondulkiri
1
Hun Manet

M/45

Phnom Penh
1
Pa Socheatvong

M/66

Phnom Penh
2
Ith Samheng

M/68

Phnom Penh
3
Mam Bunheng

M/74

Phnom Penh
4
Ing Kantha Phavi

F/63

Phnom Penh
5
Kep Chuktema

M/72

Phnom Penh
6
Lork Kheng

F/68

Phnom Penh
7
Kruoch Sam An

F/70

Phnom Penh
8
Osman Hassan

M/69

Phnom Penh
9
Khut Chandara

M/42

Phnom Penh
10
Ly Chheng

M/67

Phnom Penh
11
Suon Rindy

M/68

Phnom Penh
12
Meas Sophea

M/68

Preah Vihear
1
Cheam Yeap

M/76

Prey Veng
1
Sar Sokha

M/42

Prey Veng
2
Mom Sibon

M/78

Prey Veng
3
Long Bunny

M/53

Prey Veng
4
Cheam Pe A

M/47

Prey Veng
5
Nhim Vanda

M/75

Prey Veng
6
Sbong Sarath

M/69

Prey Veng
7
Heu Pavy

M/67

Prey Veng
8
Konh Salan

F/65

Prey Veng
9
Ouk Sethicheat

M/54

Prey Veng
10
Pich Chivorn

M/69

Prey Veng
11
Suy Sem

M/75

Pursat
1
Keo Ratanak

M/49

Pursat
2
Ty Thany

M/64

Pursat
3
Keo Virak

M/59

Pursat
4
Kith Try

M/54

Ratanakiri
1
Tea Banh

M/77

Siem Reap
1
Sieng Nam

M/65

Siem Reap
2
Tea Seiha

M/42

Siem Reap
3
Toek Reth Kamrong

F/50

Siem Reap
4
Chhim Ma

M/66

Siem Reap
5
Nou Phalla

M/69

Siem Reap
6
Say Sam Al

M/43

Preah Sihanouk
1
Toek Reth Samrach

M/55

Preah Sihanouk
2
So Khan Rithy Kun

M/54

Preah Sihanouk
3
Loy Sophat

M/74

Stung Treng
1
Men Sam An

F/69

Svay Rieng
1
Duong Vanna

F/70

Svay Rieng
2
Chey Son

M/69

Svay Rieng
3
Sam Dara

M/59

Svay Rieng
4
Ek Sovannphearak

F/55

Svay Rieng
5
Bin Chhin

M/73

Takeo
1
Chea Vandeth

M/51

Takeo
2
Nin Saphon

F/75

Takeo
3
Mok Mareth

M/75

Takeo
4
Sou Phirin

M/70

Takeo
5
Chan Sarun

M/75

Takeo
6
Ith Sok

M/69

Takeo
7
Nou Sovanny

F/66

Takeo
8
Cham Prasidh

M/72

Kep
1
Y Chean

M/71

Pailin
1
Kun Kim

M/69

Oddar Meanchey
1
Heng Samrin

M/89

Tbong Khmum
1
Chea Sophara

M/71

Tbong Khmum
2
Vong Soth

M/67

Tbong Khmum
3
Eang Sophalleth

M/53

Tbong Khmum
4
Chay Borin

M/50

Tbong Khmum
5
Dith Tina

M/44

Tbong Khmum
6
Keo Piseth

M/54

Tbong Khmum
7
Chhay Rithisen

M/53

Tbong Khmum
8